Lake George, NY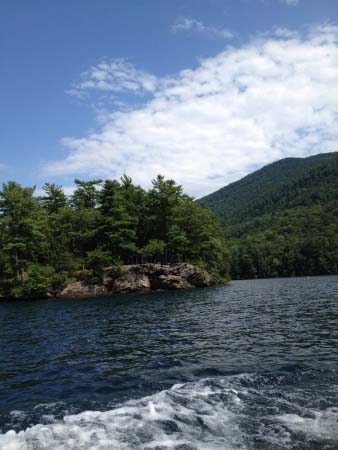 Lake George is perhaps the best place to stay for a summers' week, or the entire summer (if one is fortunate to be able to do so).
Located in the heart of the Adirondack Mountains, the area in and around Lake George is full of recreational activities, beautiful forests, gorgeous lakes (Lake George itself is just one of several lakes to enjoy), history and culture.
For example, Cooper's Cave, an important setting in the novel The Last of the Mohicans is located in the Lake George area. You can see works by El Greco, Degas, Botticelli, Renoir, daVinci, Picasso, van Gogh, and other famous artists in the Hyde Collection museum.
Revolutionary War figures visited and lived here. Artists Georgia O'Keefe and Alfred Stieglitz spent many summers in the area (several of O'Keefe's paintings feature Lake George). It also was in the area that Theodore Roosevelt received the telegram announcing that President William McKinley had died that day, making Roosevelt President of the United States. He was sworn in as president here in the Lake George area.
Most people do come to Lake George primarily for the outdoor activities. From hiking, canoeing, bicycling, swimming, fishing, boating, hunting (in season), golfing, picnicking, whitewater rafting – there's so much to do here you'll more than likely never run out of ideas and activities for making great memories.
The town of Lake George got its start as a summer resort in the late 1800s. It originally was known as Caldwell and was formed by the merger of three smaller towns, Queensbury, Bolton and Thurman in 1810. (Caldwell stayed Caldwell until the name change to Lake George in 1962).
The lake itself was known as "Adia-ta-rock-te" by the Native Americans and received the name "Lac du St. Sacrement" by the first white man to see the lake, Father Issac Joques in 1646. Sir William Johnson renamed the lake in 1755 for King George II.
The lake was an important battleground during the French and Indian War and at one time had three forts, Gage, George and William Henry (a replica of Fort William Henry can be seen today).
Lumbering helped Lake George grow and thrive in the late 1800s. Steamboats and the D&H Railroad followed soon after, helping the start of the tourist trade.
In addition to Roosevelt, O'Keefe and Stieglitz, the area in and around Lake George has been visited by George Washington, Thomas Jefferson, Ben Franklin, Aaron Burr, James Madison, Thomas A. Edison, U.S. Grant, Amelia Earhart, Gloria Swanson, Princess Margaret, Senator Robert Kennedy, Charles Lindbergh, and more.
All of them more than likely reveled in the area's beauty and enjoyed its many outdoor activities.
We hope you will, as well!