Things to do ON Lake George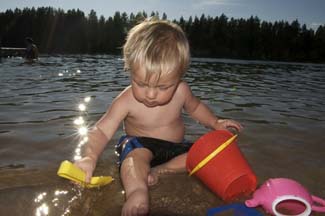 When it comes to the question, "What is there to do on Lake George?" perhaps a better query would be "What is there not to do on Lake George?"

Known as the "Queen of American Lakes," Lake George is a narrow lake located within the upper region of the Great Appalachian Valley. Lake George drains to the north (rather than to the south, as most lakes do) into Lake Champlain.

Lake George is very deep, having been carved into the valley over the eons by both earthquakes as well as a melting glacier (more recently: about 10,000 years ago). It's 200 feet deep (at its deepest) and is about 32 miles long and about 4 miles wide at its widest, giving it about 44 square miles of surface area.

The lake has about 186 islands, of which 154 are owned by New York State (the remaining are privately owned). Fifty of those state-owned islands are available for camping.

As far as things to do on Lake George? Well, there are many:
Take a ride on a steamboat! The Lake George Steamboat Company offers visitors a good variety of cruises on their three steamboats, one of which (the Minne-Ha-Ha) is an authentic paddlewheeler. Another ship, the Lac du Saint Sacrement, is Lake George's largest cruise ship. You can try a lunch, dinner or brunch cruise on the Lac, or take a one-hour sightseeing trip on the Minne. You also can take a full-length tour of Lake George on the company's oldest ship, the 105-year-old Mohican.
Rent a jet ski and take a wild ride on Lake George's waters.
Charter a boat for a half- or all-day fishing expedition. Try your hand at catching large-mouth bass, small-mouth bass, lake trout, landlocked salmon, and more.
If you know how to scuba, consider chartering a dive boat and exploring some of the wrecks, reefs, island walls, and even old hotel sites you'll find under Lake George's waters.
Go tubing! Rent a kayak or even a raft and drift lazily along some of Lake George's river and creek tributaries or even on the lake itself.
If you're a more adventurous bent, consider taking a white water rafting trip!
Go swimming! Lake George has six terrific public beaches (and one public dog beach) on its own shores (with other public beaches available on the shores of some of the other lakes within the region).
You'll enjoy swimming in Lake George's waters, water that is so pristine that residents of the region use it as a source of drinking water.